Product Category
PRODUCT CATEGORY
5H-1 batch type circulating grain dryer
For more than 20 years, the company has always positioned itself in the development of agricultural machinery in hilly and mountainous areas, and mainly produces agricultural machinery products in hilly and mountainous areas such as dryers, harvesters,
keywords:features、series 、Dryer
classify:Product
The main advantages (features) of the 5H-1 batch circulating grain dryer:
1. Compact structure, small area, no need to build another "machine room";
2. There is no need to build a transformer station, just plug in household electricity (220V);
3. The hot blast stove and the dryer are integrated, the thermal efficiency is improved, and the heat loss is small;
4. The hot blast stove can use a wide range of fuels, which can burn wood, coal, charcoal and biomass pellets, and can also be equipped with diesel fuel.
5. After drying, it can be directly used as a granary. It can be checked and operated every 1 month to prevent rodents and insects and ensure that fresh food is eaten every day.
6. One machine with multiple functions, can dry rice, corn, wheat, rape, sorghum and other crops.
7. With casters, it is easy to move.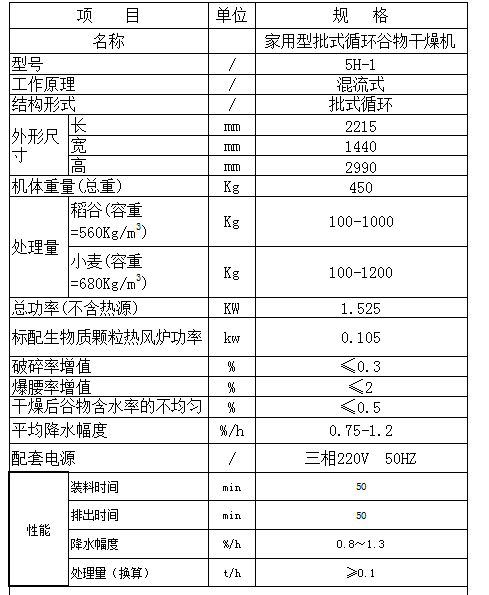 Scan the QR code to read on your phone
We could not find any corresponding parameters, please add them to the properties table